Summary:
The Court Has Ordered Franco To Therapy Sessions With Dr. Lainey Winters. As She Tries To Understand Him, She Allows Him To Consume Her Mind And Connects With Him Both Mentally And Physically.
Genre: Erotica, Suspense
Warnings
: Dark Fic, Strong Sexual Content , Un-betaed
Chapters: 1 Table of Contents Completed:
Published: 03/11/10
by bellamafia08 Rated: 17 and older
Summary:
Lainey Winters thought that the past would stay in the past. She was wrong. After a string of murders hits Port Charles Lucky finds out a secret from Lainey's past and must protect her from becoming the next victim.
Categories: Daytime Television, General Hospital
Characters: Lainey Winters
Classification: Alternate Universe
Genre: Drama, Family, Friendship, Romance, Suspense
Warnings
: Adult Situations, Character Death, Drugs/Drug Use, Extreme Language, Graphic Violence, Sexual Content , Strong Sexual Content , Work in Progress
Chapters: 5 Table of Contents Completed: No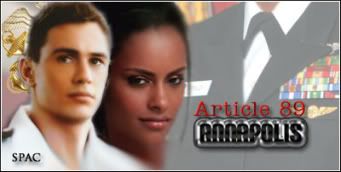 Published: Updated: 09/06/09
Annapolis 2:
Article 89
© by SparkApCider Rated: 17 and older
Warnings
: Extreme Language, Strong Sexual Content
Summary:
Dr. Elaine 'Lainey' Winters, aka Navy Reserve Captain Winters, usually serves her compliance of one week per month at the Annapolis Hospital, in Maryland. What happens when she is called as a witness in a case that hits pretty close to home and suddenly finds that she could possibly face a violation of the Navy's strict no fraternization policy?
Disclaimer

: All publicly recognizable characters, settings, etc. are the property of SparkApCider. The original characters belong to their respective entities, No copyright infringement is intended.
Is there a doctor in the House?
by
Minx
Rated:
17 and older
[
Reviews
-
25
]
Summary:
Hello, sick people and their loved ones! In the interest of saving time and avoiding a lot of boring chitchat later, I'm Doctor Gregory House; you can call me "Greg." I'm one of three doctors staffing this clinic this morning. This ray of sunshine here…is Doctor Lainey Winters. Doctor Winters here thinks I have issues, she has no clue. I am a board certified diagnostician with a double specialty of infectious disease and nephrology. I am also the only doctor employed at this hospital who is forced to be here against his will.
That is true, isn't it?
But not to worry, because for most of you, this job could be done by a monkey with a bottle of Motrin. Speaking of which, if you are particularly annoying, you may see me reach for this: this is Vicodin. It's mine! You can't have any. And no, I do not have a pain management problem, I have a pain problem... but who knows? Maybe I'm wrong. Maybe I'm too stoned to tell. So, who wants to see me first? –
Dr. Gregory House M.D.
January Readers Choice Challenge:
HersheyKisses special request for House/Lainey Winters fic
Warning
: plenty of naughty!
Genre:
Comedy Erotica, Adult situations, extreme language, Strong Sexual Content
Challenges:
Reader's Choice Challenge
Chapters:
2
Table of Contents
Completed:
Yes